Next live appearance: Thistle Hall, Wellington NZ, Sat 20 August 2005
ALBUMS
Loose Autumn Moans

Redressing Regression Aggression

mp3

"Edwards' art is always an interactive experience, and the spontaneous nature of his audio output encourages descriptions such as abrasive, discordant, sombre and atmospheric. Such adjectives contribute but never tell the whole tale."

- Real Groove

Mantis Shaped and Worrying

And in a Who Gets to Who and Who Does and Him

mp3

"Random squeaks squawks & squeals accompanied by a dreary monotone voice reciting obscure diatribes."

- NZ Musician

The Marion Flow

mp3

"Edwards' music is often a sculpture rather than a melodic composition... there's much difficult pleasure to be had for the musically adventurous."

- Real Groove.

Scratched Surface

I Don't Need You (to Grind Me Down)

mp3

"Worth searching out coz this lo-fi singer/songwriter oddball has a unique take on the genre. He's pissed off, a tad fucked up (as usual), but not full of lugubrious self-pity (as unusual) and is happy to get raucous & obnoxious in just the right kinda way."

– Chris Knox.
Note: These albums were originally released under the name 'Dave Edwards'. However I'm currently going under the name 'Dave Black' as:
1) It's my mother's maiden name so I have a right to it (& could also be interpreted as a feminist move)
2) It comes from my Irish grandfather's quarter of the family so emphasises Celtic heritage etc with all the connotations that brings.
3) It acknowledges the streak of duende in the music. Usually I'm fine but part of me is prone to melancholy.
4) It sounds cooler.
See also: Ascension Band, The Winter, Dadapapa Majicklone Orchestra, Dave's writing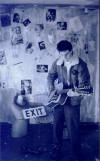 I started the Fiff Dimension label in 1998 when, aged 19, I recorded my first album Scratched Surface. I had been writing songs for the past four or so years and the idea of making an album came to me while I was sitting outside the caravan in Hastings where I spent my 19th birthday working on an apple orchard. I picked 15 songs and put them together in a way that seemed to offer a narrative and dynamic progression. Choosing the tracks for an album and putting them in the right order has always been one of my favourite parts of the process. An album should be greater than the sum of its parts.
My background is essentially non-musical. I was never interested in what I heard on the radio as a child - this was the 1980s and mainstream music sucked. I was an avid reader, into science fiction mostly – Doctor Who, the Hitchhiker's Guide to the Galaxy, Lord of the Rings – and had a corresponding dislike of realism. Music was just irrelevant. My awakening to music came fairly suddenly when my fourth form English teacher played the class Bob Dylan's 'Talkin Bear Mountain Picnic Massacre Blues'. It just clicked - here, finally, was something I could relate to. The looseness, irreverence & humour, the acoustic guitar & harmonica combination, emphasis on words, and that voice all made perfect sense. And it didn't need a catchy chorus to make its point.
From there I got an acoustic guitar and harmonica and started writing songs (fiff dimension, which I spell phonetically, was a nickname I was given around this point). I took Dylan as my role model – there have been plenty of other influences since but he's always been there in the background and twelve years on I'm still discovering new depths of meaning in his work. I never wanted to play his songs as that would be missing the point - a large part of his importance was in the way he wrote his own (changing popular music in the process and evolving from album to album) so I had to write mine…

While recordings Scratched Surface I was writing songs for a second album which became The Marion Flow. I moved along from the "lo-fi singer/songwriter oddball" style – the lyrics became more impressionistic, less tied to metrical verse structures, a lot of it spoken rather than sung, and I also started getting into purely instrumental music. I had outgrown pop/rock by this point and my fondness for dissonant rock bands like Sonic Youth, Einstürzende Neubauten and the Velvet Underground led to my discovering free improvisation and jazz. The New Zealand publication Opprobrium was influential - I was intrigued by descriptions of the English improvising guitarist Derek Bailey, and when I finally got to hear him (those kind of albums not being readily available in New Plymouth) that was another experience of straightaway 'clicking' with something. Maybe because I didn't have much of a musical upbringing I have no problems with atonality – perhaps I do without certain 'classical' preconceptions about what constitutes music.
Free improvisation was a valuable discovery as I began to pay more attention to dynamics, timbre, layering, orchestration and rhythms. With my earliest efforts I used simple chord progressions as a backdrop to the lyrics, now I started to appreciate the textures of the instruments – and learned to love the sound of guitars even more - textural trilling to icepick-in-forehead tones. I moved to Wellington, and discovered that by coincidence a free improvisation scene was coming into existence. The Space opened in September 1999 and I must have been to over a hundred gigs there during its existence.
The Marion Flow was partly done in New Plymouth in 1999 but left unfinished til winter 2001, and recorded with the help of some session musicians, Paul Winstanley, Chris O'Connor, Simon O'Rorke and Chris Palmer. I paid for Paul to travel to Wellington from Auckland, hired a professional mixing desk and space at Thistle Hall for a weekend, and had the recordings mixed by Joe Callwood at his studio in Island Bay. I spent around $550 all up, which to date I'm still way in the red on – and the most important element, the human skill & help was given to me free. I was very lucky. People are always the most valuable resource.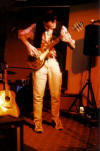 The Marion Flow received good reviews but some seemed to be puzzled by the blend of acoustic pop, noisy postpunk, spoken word, and atonal improvisation – the reviewers started using words like "eclectic" and "difficult". I wasn't trying to be either - to me it was perfectly obvious how these elements were all part of a continuum. One goal I always had was to make an album that would reward or require multiple listenings. Rather than hit single or dancefloor approaches – my music should sneak up on you slowly & last for years.

In 2002 I recorded a third album, Mantis Shaped and Worrying, where rather than juxtaposing the different elements I created tracks that blended them together at once (naively thinking that would make it easier for listeners to get a grasp on). There are fewer but longer tracks. I also recorded it and played most of the instruments myself. This is probably the most intensely personal of my albums. The bewildered review in NZ Musician magazine seemed to be more a comment on the reviewer's lack of understanding of any context for my music than having anything to do with the actual quality of the music itself. But it showed that I was by now well and truly out of step with 'popular tastes'. Not that any artist should ever make pleasing people their prime objective.
I also started the http://fiffdimension.tripod.com website and wrote a book of short stories, Anterior Pathways, at this time. And raised some international publicity for the Wellington free music scene by writing an article for the UK music magazine The Wire.
Each of the albums is a development from and reaction to the previous one. I found that with Mantis Shaped and Worrying I had painted myself into an introspective psychological corner. The solution came on the winter solstice of 2003 when I jammed with San Shimla and Simon Sweetman. We hit it off immediately, called ourselves The Winter, played gigs and soon put together an instrumental album Parataxes. I was feeling burned out from difficult personal circumstances and didn't know what to say to express myself – the solution was to say nothing, or as Frank Zappa put it "Shut Up n Play Yer Guitar". I took strength from the other guys' 2/3 input and the album came together remarkably easily, capturing something new at its inception. I found that 'a band' has a distinctiveness of sound and a unity of purpose that's something different from using session players or random people jamming.
Having found the right collaborators I was in a position to finish off recording my stockpile of songs from the previous few years. Loose Autumn Moans brought me back full circle to my acoustic singer/songwriter roots and integrates elements from the previous four albums. I had a modicum of experience behind me by then and the album has a certain maturity about it. The Winter featured as backing group, with the addition of Sammy the Snake on violin, and we appeared as the house band in the show 'Speakeasy' at the 2003 Wellington International Jazz Festival.
Sadly, The Winter went into hiatus after this due to the other guys' time commitments, melting before the oncoming spring. However, on learning that San Shimla was relocating to Melbourne, Australia, we got together for a final recording session at the tail end of 2004. This became the album Swansong (for the Huia) and reaffirmed that here was something special.
In 2003 I also convened the Ascension Band's first performance, as a 12-piece punk homage to John Coltrane at the Meatwaters Festival in Wellington. We followed up with another performance at the 2004 Meatwaters Festival, which was caught on video and became the Live 2004 DVD. After that we agreed the band had serious potential. We put together our own show, 'Electric Symphony: Evolution', and won the Best Music Award in the 2005 Wellington Fringe Festival.
And from here on I have a clean slate to begin again with something new...